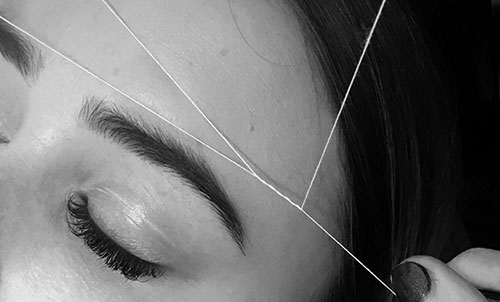 Being the first salon threading in Drogheda, we had to set the bar high. We believe that our continuous training and striving to excel in this field over the last 10 years has gained us a large client base dedicated to threading.
We roll a twisted cotton thread over the skin, only removing the hair from the follicles. 
It is suitable for all areas of the face, but because it allows for total control over which hairs are removed and which aren't, eyebrow shaping can be really precise.
We only use thread made with the finest quality organic cotton from India.
Here at the Studio we are obsessed with threading and the amazing results it has. We were the first to bring this ancient treatment to Drogheda and it's a staple treatment in the studio.
After doing the required training in this method, each of our therapists will then undergo extra one to one training with owner Michelle who teaches them attention to detail and precision.
Here's some more information on this popular method of hair removal…
What is threading?
Threading is an ancient middle method of hair removal. It's consists of length of cotton thread (which is specially treated for issuing in this was). The thread is twisted and rolled along the skin pulling the hairs quickly and gently from the root.
Is it better than tweezing or waxing?
Yes Yes Yes!!!
For the eyebrows no other method can get the precision and attention to detail that threading can achieve.
It works really well on all facial hair and it has minimal trauma to the skin. Your skin will be less red and irritated from threading.
Does threading hurt?
It really depends on your own pain threshold. When the hair is being pulled from the root, it will pinch a little. We will do our best to make this as painless for you as possible.
What areas can I get threaded?
All facial areas:
Eyebrow
Lip & Chins
Neck
Sides of Face
Hairline