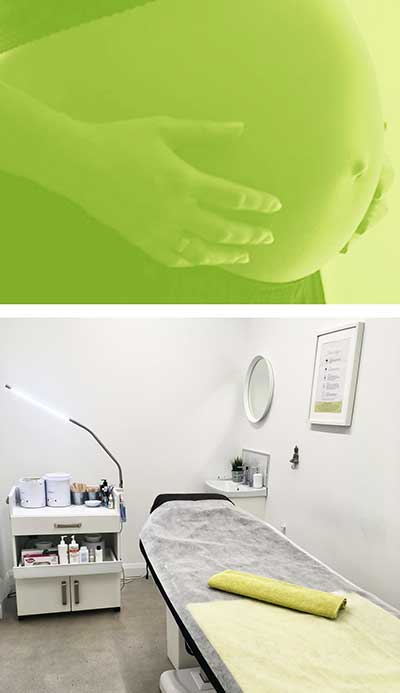 During your pregnancy your body and hair can change due to hormone fluctuations. You can also feel more sensitive.
Waxing and sugaring is considered safe but as a precaution we would advise to wait until you are past 12 weeks to wax/sugar especially if it's your first time waxing/sugaring. To be extra safe we would advise checking with your GP.
It is very important to go to a salon where the therapists are fully trained and have plenty of experience.
Here at Studio Wax you can relax and feel confident knowing you will be in safe hands and we will guide you through your treatment ensuring you are comfortable throughout. Our team have many years experience in pregnancy hair removal and we will have the job done efficiently with minimal discomfort.
We also leave extra time with your surroundings clean and cool which makes a huge difference. We only use products that are safe to apply while pregnant.
If you have any questions don't be afraid to call and chat to one of our team. We would be delighted to hear from you.
Tips for pregnancy hair removal:
Keep each appointment regular coming to us at least every 4-5 weeks . This will maintain a light growth and ensure minimal discomfort.
Keep your skin exfoliated and moisturised in between your appointments.
Bring water with you and have a light meal before your visit especially in the last trimester.
Its best to arrive early and relax before your appointment leaving plenty of time before and after your treatment.
We have created pregnancy packages for you to choose from:
Pregnancy Bikini Wax
For sugaring add €5
Regular bump €20
Californian bump €35
Brazilian bump €40
Extended Brazilian bump €45
Hollywood Bump €50