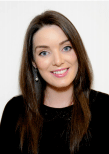 Having first worked in the hair industry I knew that I loved dealing with the public and loved making people feel good about themselves. I went on to study beauty in Coogan Bergin Beauty College and worked in all areas of beauty. My love for waxing encouraged me to complete a lot of extra training in specialized waxing and techniques and I felt that focusing on one area of the industry meant I could become a specialist at the highest standard.
I knew setting up a wax-only studio was a risk at the time, but I believed there was a niche for this and wanted to change the 'dreaded wax appointment' into a treatment that people wouldn't fear. I found that when done correctly using top quality products, fantastic results could be achieved, and so the Studio Wax clientele began to grow. Our loyal customers trust and know that we are the best at our chosen field.
Our obsession with eyebrows started when we launched Threading hair removal in the studio in 2007 and we were the first in Drogheda to offer this to customers. We perfected this skill as well as mastering the art to shaping the eyebrows and we have gained a lot of loyal customers for this service. It is now a signature treatment in Studio Wax and we have built a great reputation for transforming customers eyebrows. Threading also works amazing on all facial hair and is much more gentle to the skin than waxing.
Sugaring Hair removal is an all natural paste and like waxing removes the hair from the root. The difference is it's 100% organic and is biodegradable! When I first tried it in 2014 I knew it was special. Like threading it dates back to Egyptian times and the results are just amazing. I'm so proud that we not only offer this to our clients, we also teach this to Beauty Therapists and salons.
Although we have added some extra beauty treatments to the Studio since we opened, hair removal is the core of what we do. We want to excel at what we do ensuring our customers get the best service with every visit.
I am very passionate about my work and Studio Wax, I feel so lucky I do what I love every day! The success of the Studio is our amazing team of like minded therapists and we all have the same goals.
Below is our fabulous Studio Wax Team, and we look forward to seeing you in the Studio!


Christine
Christine started in 2008 when the studio was building its reputation and is without a doubt a big contribution to our success. She qualified in beauty therapy in 2002 but quickly settled into the world of hair removal. She is extremely professional, takes a lot of pride in her work and is a complete perfectionist in every way! Her gentle friendly nature & experience proves her very popular with her customers and she has built a huge loyal clientele. Christine has been threading for 12 years in the studio and is extremely skillful at it. She is a 'Brow Queen' and is known to transform her client's eyebrows.  She qualified as a teacher in 2018 and now teaches sugaring and threading hair removal both inhouse and to other salons and  beauty therapists. All we can say is you are in good hands with this exceptional lady.

Fiona
Fiona is our studio manager and front of house. She is the friendly face who will greet you at reception, answers your emails and replies to your messages. Not only does she assist in the running of the Studio, she is also our marketing manager promoting the studio on our social media outlets. She has so much passion for her work and goes above and beyond to ensure our clients 100% happy everyday.
Fiona is one talented lady, being a graphic designer and a photographer, she designed the Studio Wax logo in 2006 so has been with us from the beginning of our journey. Every photo, poster, brochure and advert you see will be designed by her and she genuinely cares and wants the studio to be success.
She has a passion for her work and that shows in everything she does here. How lucky are we to have this amazing lady on our team!!

Ruth
Ruth Joined our team in June 2017. Her gentle and friendly nature will instantly make you feel at ease. She comes to work with a smile everyday and her positive energy brings a great atmosphere to the Studio. Having previously worked at Benefit Cosmetics mainly doing eyebrows, we knew she would be the perfect fit in the Studio. Like all our therapists, Ruth is a perfectionist and takes a lot of pride in her work. She is amazing at threading and loves waxing. She  also qualified in Sugaring with London Sugaring Company . Ruth is our LVL lash-lift technician too, so feel free to contact her with any questions you may have. She is such an asset to studio wax and we are so lucky to have such an amazing therapist on our team

Patricija
Patricija joined us in 2018 and qualified in Beauty Therapy in DIFE. She is the perfect fit for our team and is meticulous in her work and extremely professional. She has been given the ' Tan Queen' title here in the Studio because of her flawless application every time. She loves threading and shaping brows and is also an LVL lash technician. Like all of our team here Patricjia trained with us in sugaring hair removal and excelled at this skill from day one. She is such a pleasure to work along side and will go above and beyond to ensure  her clients are happy. We love having such a talented therapist on our team!