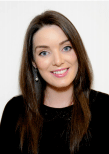 Having first worked in the hair industry I knew that I loved dealing with the public and loved making people feel good about themselves. I went on to study beauty in Coogan Bergin Beauty college and worked in all areas of beauty. My love for waxing encouraged me to complete a lot of extra training in specialised waxing and techniques and I feel that focusing on one area of the industry meant I could become a specialist at the highest standard.
I knew setting up a wax-only studio was a risk but I believed there was a niche for this and wanted to change the 'dreaded wax appointment' into a treatment that people wouldn't fear. I found that when done correctly using top quality products, fantastic results could be achieved, and so the Studio Wax clientele began to grow. Our loyal customers trust and know that we are the best at our chosen field.
Our obsession with eyebrows started when we launched Threading hair removal in the studio in 2007 and we were the first in Drogheda to offer this to customers. We perfected this skill as well as mastering the art to shaping the eyebrows and we have gained a lot of loyal customers for this service. It is now a signature treatment in Studio Wax and we have built a great reputation for transforming customers eyebrows. Threading also works amazing on all facial hair and is much more gentle to the skin than waxing.
Although we have added some extra treatments to the Studio since we opened, we have still kept it to a minimum as we want to excel at what we do ensuring our customers get the best service with every visit.
I am very passionate about my work and am blessed to do what I love every day! The success of Studio Wax is our amazing team of like minded therapists and we all have the same goals.
We attend various training courses throughout the year to ensure we are using the best products available as well as being trained to the highest level in the beauty industry.
Below is our fabulous Studio Wax Team, and we look forward to seeing you in the Studio!


Christine
Christine started in 2008 and qualified in all beauty therapy but she quickly settled into the world of waxing. She is extremely professional, takes a lot of pride in her work and is a complete perfectionist in every way! Her gentle friendly nature & experience in waxing proves her very popular with her customers and she has built a huge loyal clientele. She trained in Threading shortly after starting with us & her attention to detail makes her a natural at it. She started when Studio Wax was building its reputation and is without a doubt a big contribution to our success.

Fiona
Fiona is the friendly face who will greet you at our reception. Not only does she assist in the running of the Studio, she is also our Marketing Manager promoting us on all our social media outlets.
Fiona is one talented lady, being a graphic designer and a photographer, she designed the Studio Wax logo in 2006 so has been with us from the beginning of our journey.
She has a passion for her work and that shows in everything she does here .

Marta
Marta started with us in 2013. She, like all our team has passion for waxing and threading, is a perfectionist and takes a lot of pride in her work. She comes to work every day with a smile and likes to ensure all her clients leave with one. Her bubbly and friendly nature is not just a pleasure to work alongside but makes you, our customer, feel at ease in your treatment. Plus, she will have your waxing done before you know it! Marta has endless talents and makes our beautiful wax melts (Marta's Melts) that we sell with our oil burners here in the Studio.

Laura
Laura joined the studio Wax team in 2016 and she really was the perfect fit to our enthusiastic team. Like the rest of us here she has a passion for waxing and will make you feel relaxed and calm during your treatment. Her friendly and gentle personality will make you feel welcome and comfortable while you visit us.
Did we mention she is also a baker!!! (Endless talent!) Meaning we have been spoilt with some of her beautiful treats.

Ruth
Ruth Joined our team in June 2017. Her gentle and friendly nature will instantly make you feel at ease. She comes to work with a smile everyday and her positive energy brings a great atmosphere in the Studio. Having previously worked at Benefit cosmetics mainly doing eyebrows, we knew she would be the perfect fit in the Studio. Like all our therapists, Ruth is a perfectionist and takes a lot of pride in her work. She recently qualified in Sugaring with London Sugaring Company and has added this to her list of treatments. Ruth is also our LVL lashlift technician so feel free to contact her with any questions you may have.

Niamh
Niamh has joined our team this summer 2019 and all we can say is she is a Wax Queen!! With 17 years beauty experience and having specialised in just waxing for the last 5 years you can be assured you're in great hands! Niamh's kind and professional manner will leave you at ease during your treatment. She is the perfect fit to our Studio Wax team and we are delighted to have her on board! Niamh has qualified with London Sugaring Company in Sugaring hair removal so we can add Sugar Queen to her list of talents too.

Patricija
Patricija joined us in 2018 and qualified in Beauty Therapy in DIFE. She is the perfect fit for our team and is meticulous in her work and extremely professional. Patricija has been given the Tan Queen title here in the Studio because of her flawless application every time. She received a distinction in her waxing exam in college so watch this space for a future Wax Queen!! Patricija is also our front of house so feel free to contact her with any questions you may have.